Get started with unluclasses
With this unluclass, explore what goes into becoming a successful comedian. Learn the A-Z of making it as a comedian, from one of the biggest comedians in the Indian film industry, Johnny Lever!
Excel in the art of writing by taking this phenomenal course by the legendary Ruskin Bond. With over 70 years of experience, Ruskin Bond needs no introduction. His exclusive class on Unlu, will provide you with the right guidance to become a good writer.
Learn the art of acting by the man himself- Manoj Bajpayee.He is the man behind many iconic roles in cult classics like Gangs Of Wasseypur, Family Man, Satya, etc. In this unluclass, Manoj teaches you how to crack auditions, break down the script, catch dialects, improvise and perform, all while successfully dealing with criticism.
See More...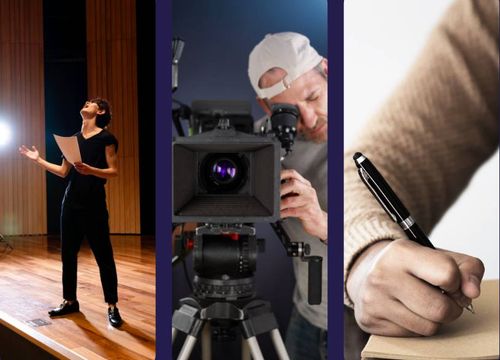 All access pass
Get unlimited access to all course and
50+ other industry leading courses materials
30-Day Money back guarantee
In this unluclass the famous Shashank Khaitan talks about his journey to fame and how he achieved so much in such a short period of time. He talks about the ups and downs in his career and shares the valuable lessons he learnt through it all
All access pass
Get unlimited access to this course and 50+ other industry leading courses
30-Day Money back guarantee
*Flat 60% off! Limited time offer
FAQ's
How do I purchase an Unluclass?
You can buy an Unluclass by clicking on our "buy now" option and paying online. Once you buy a class you get unlimited access to it and you can view it anytime and learn at your own pace.
How are the courses designed and what other things come with it?
Unluclass is an immersive online experience. The curriculum for each Unluclass is designed by your teachers. Each class includes lessons on different topics that cover the course, an especially designed Unluclass workbook, interactive assignments, daily exercises, and community activities. After purchase, the videos can be viewed, paused, fast-forwarded, and re-watched as many times as you like.
How long is the course?
Depending upon the course content, each course consists of around 2-6+ hours of video content which is split up into individual videos that you can watch anytime. In addition to the lesson videos, each course has a carefully designed workbook that comes in PDF format for you to easily download and print. The workbook can be used for an in-depth understanding of different topics from the class.
How long are the video lessons?
Unluclasses range anywhere from 2-6 hours in length and each class is made up of several lessons that range from 5-30 minutes in length - some classes may have longer lessons.
Do I have to complete the course within a specific time frame?
No, you can complete the class at your own pace. You get unlimited access to every class you purchase individually.
What type of device / browser do I need?
You can learn and view the Unluclass on any internet-enabled device, on any modern browser.
Can I download the videos?
The video lessons are not available to download.